Weddings In Jamaica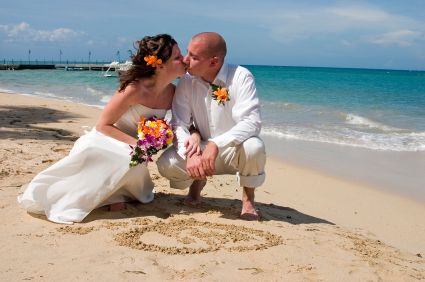 Planning Your Dream
Wedding In Paradise
Weddings in Jamaica have long been a favorite of people looking for a great destination wedding site. Jamaica is in the Caribbean, which means the weather is beautiful most of the year. It is warm and welcoming. The beaches are clean.
Better yet, Jamaica is one of the most affordable of all of the Caribbean Islands. If you want to have an amazing wedding, then consider having your wedding in Jamaica.
Just like in the United States or many European countries, folks can plan a fabulous Jamaican wedding that's like their traditional ceremonies. On the other hand, you may want to choose a wedding that is Jamaican in style and religious practices. In either case, you do have some options to take into consideration when choosing this type of event:
You can host your wedding on one of the beaches. This will require a permit but a quality wedding planner in Jamaica will be able to help you.



Jamaica is well known for its beautiful churches, many of which are quite old. You can often plan Jamaican weddings in these venues with advance notice.



Another option is to spend your time planning your getaway Jamaica wedding and honeymoon packages in the resort or hotel that you're staying at when you arrive. In some cases, resorts will have wedding planners on site who can provide you with all the services you need.



Pull all of this together and you'll have an amazing stay and wedding in Jamaica. All you have to do is to make a few choices!

Is It Expensive To Get Married In Jamaica?

When you plan a wedding in Jamaica, higher costs often come into the picture. Luckily, Jamaica is one of the most affordable areas for weddings.
However, it's also far from home. Some couples choose to invite a large number of people to their wedding, but request that they pay for their own accommodations and travel.
Others invite a smaller group and cover the costs themselves.
In either case, you can control the costs of your wedding by making key decisions on who you invite and where you host the event.
How To Get Started When Planning Weddings In Jamaica

If weddings in Jamaica sound as good to you as Jamaica reggae music, then it may be time to start planning a magnificent wedding. Take the first step by contacting a local Jamaican company to do the planning and organizing for you.
It's often best to work with a trusted professional, one who has experience in planning destination weddings.
Looking for other great wedding ideas, look no further than here at
Wedding Flower and Reception Ideas
.
Write About Your Wedding in Jamaica
Weddings in Jamaica are exciting and hassle free. Did you get married in Jamaica, what was your experience?

Was your day perfect, or did it rain, and did everyone arrive on time.

Or tell us about a wedding you attended in Jamaica.

Was it as you expected or even more.

Please share your thoughts.
Return to Jamaica Reggae Music Vacation Home Page from "Weddings In Jamaica"