Destination Wedding:
Where Magical Dreams Come True

A destination wedding offers you the chance to create the wedding of your dreams. It doesn't have to cost a fortune or be a nightmare to organize. All you need is your imagination, a wedding planner and an adventurous spirit.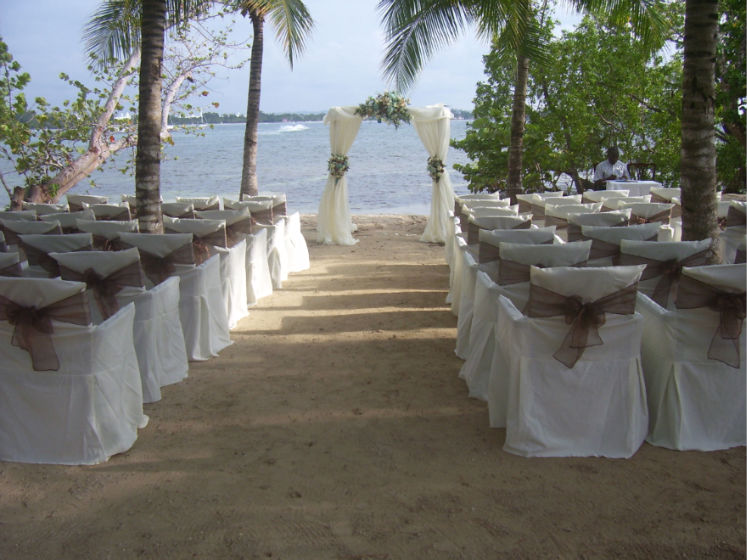 A wedding in Jamaica is a great choice and is the perfect place to start your happily ever after.  This an island where magical dreams can come true.
Why a destination wedding here?  Because the weather is great all year and there are tons of wedding and honeymoon package deals, and the ocassion will be fun for everyone.
Also, if you have any form of complicated family situation then destination weddings are all the more reason to have your "I Do" said in a neutral location.
To be sure this type of wedding is for you do the following....
Questions For Yourself When Planning A Destination Wedding
Before you start planning your wedding there are some questions you need to ask yourself:
Would you like your wedding to be an event that people will remember and talk about forever, or be an adventure?



Would you like your wedding to be a small intimate affair with just a select group of people that you are closest to.



Do you want your wedding to be a group vacation where everyone can really get to know each other and you can spend quality time with everyone. Especially, if your family and the groom's family doesn't really know each other and also live a million miles apart.



Guest list will be made up of people who will come no matter where you have your wedding.



For my honeymoon I can hang out with my friends and family and still be able to sneak off at the end of the day and just be a couple.
If you answer yes to most of these question, then start packing you are the perfect couple for a destination wedding.
Planning Tips For A Memorable Wedding Day
I have come up with a couple of useful planning tips and advice on how to make your wedding day memorable.
Translators are available to assist you with the planning of this event at every resort in Jamaica.



Figure out what kind of wedding you would like. For instance, an enchanting beach wedding or a more formal kind of wedding reception.



Next do a worksheet listing expenses from airfare, accommodations, guest list, flowers, bridal gown, gifts, decor.



Set your budget and then search for the many all-inclusive wedding planners and resorts.



Since it is a destination wedding make sure all your guest can arrive easily in Jamaica. You can do this by sending detailed information on hotel, travel arrangements and directions within your invitations.



There are a number of great places to stay for you and your guest in Montego Bay, Ocho, Negril, Port Antonio and Kingston. You can research them through our site, Jamaica Reggae Music Vacation, and the links provided on this page.



For weddings and honeymoon, Jamaica's hotel and resorts are very hospitable, welcoming and affordable. Make sure you have made bookings beforehand in order to avoid conflict of dates. Though some resorts can even assist you in surprise on the spot decisions in getting married.



Getting married in the off-season is more budget friendly. Discounts are more readily available and wedding planners also offer specials on their services.



If you are planning to stay for more than a week in Jamaica after your wedding, we recommend checking for honeymoon packages as well. Almost all resorts will be happy to give you a significant discount on wedding plus honeymoon packages.



Also there are various wedding planners and guides in Jamaica that can be reached online.
Again I strongly suggest using a wedding planner for a destination wedding, they make the planning of this event so much easier.
Legal Requirements For A Jamaican Wedding
There are some important legal requirements that you should be aware of when planning your wedding as per Jamaican laws.
At least two business days prior to your wedding you and your spouse must be in Jamaica.



To obtain a Marriage License you must have an original copy of your birth certificates and your passports.



Your full names, occupation, religion and occupation information are required.



In the case of you or your spouse are adopted or divorced, you will need your adoption certificate or an Absolute Decree certificate.
Your Guest Travel Guide
Now that you have decided on where your wedding will be, do send a travel guide to your guest so that they may look for ways to fill their time before and after the wedding.
Your guest will probably be traveling from around the globe, so the travel guide is for:

Guest to feel that you have chosen a place that will delight them
Make them feel as though their time and money have been well spent.

So review Jamaica Reggae Music Vacation website and see all that this jewel of the Caribbean has to offer.
Return From Destination Wedding To Weddings In Jamaica