Jamaica Nude Beaches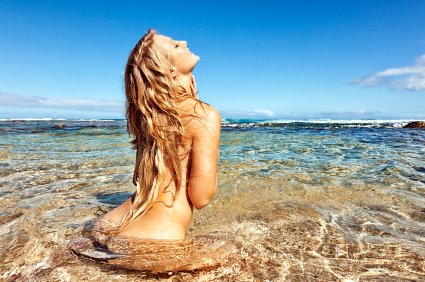 Where Anything Goes

Jamaica nude beaches are found at some of the most top listed hotels, beaches, and that adds to the tourist attractions of Jamaica.  Nude sunbathing and swimming are allowed at a number of hotels, clubs and beaches, in Montego Bay, Ocho Rios and Negril, but only in specific areas where the signs state that swimsuits are optional.
At Hedonism II and other nude beaches the areas are separate and private with guards keeping the Peeping Toms at bay, and the taking of photography is not permitted.  Couples Tower Isle, Ocho Rios has its own island and only nudity enthusiast are there.
One of the guidelines to a nude vacation is when speaking to another nude person to look them only in the eyes.
Couples Ocho Rios
This is the lobby of Couples Tower Isles, Ocho Rios, and you are looking through that glass at there nudity island.  The nudity island is only occupied during the day.
Every morning and every ten minutes throughout the day, a boat will take you over to the island where you can relax in complete nudity, listen to some great reggae music, swim, sunbathe and have your very own staff to serve you liquor and your meals.
You can come and go from that island throughout the day.  So if you are looking for nudity among a relaxed and safe environment, then the Couples Tower Isle Ocho Rios Resort is one of the best place for you.
This resort, on the east side of Ocho Rios, is open only to couples and includes a large beach filled with white sand and ample water sports. The main highlight of this hotel includes the boat ride to a nearby island that is especially set up for nude sunbathing and swimming.
This hotel is very private, only guest staying here has access to the hotel's beautiful beach which is separate from the nude beach area.
Hedonism III - Jamaica Nude Beaches Extraordinaire




Have you heard of nude weddings?  Well at Hedonism III hotel, the only resorts in Jamaica, I know for sure, that offers official nude weddings.
Pack light for this resort because nudity is acceptable everywhere, but clothing is required at meals.
This resort provide you with luxury rooms and attractive features catering to the needs of nude guests. Like Jacuzzi tub, swim-up rooms, disco water slide, shuffleboard, bed side mirror on request are just some of the features that this resort pampers you with. Making this resort very attractive for young adults.
The beach will not disappoint, it is part of the seven miles of white powdery sandy beaches.  This resort is termed as Jamaica's highest energy resort.
Grand Lido Braco
Based upon the idea of creating a Jamaican village experience, this resort has a town square, art stores, cafes, and woodcarver shops.  Located about a hour drive from Montego Bay airport, but it also contains a luxurious section for nudity and is Jamaica's most extensive nude resort.
What makes it different from the other "nudity allowed" resort is parts of this resort are specifically labeled "nude" and not just "clothing optional". With a wide array of facilities like swim-up bar, pool, grill, hot tubs, tennis courts, soccer fields, and golf grounds.
This luxurious Jamaica Nude Beaches resort is bound to receive your applause.
Return From Jamaica Nude Beaches To Jamaican Beaches