Kingston Jamaica

Popular City On The Coast
Are you heading to Kingston Jamaica? If so, you'll be happy to learn there's plenty to see and do here. You'll also find that this city on the coast is one of the most popular regions for those visiting Jamaica.
Kingston is the capitol of Jamaica. It's located on the southeastern portion of the country. This is where you'll find the harbor along with the Palisadoes. Our Kingston Airport is located along the Palisadoes which is a long stretch of land that connects Norman Manley International Airport to Port Royal.
There are several attractions near Kingston worth visiting. Some of those include:
Hellshire Beach Club, ideal for a short vacation break, is family owned and operated and is located on the beach of Hellshire. The beach is a great place to go swimming. This is a fun location with the club being host for sports meet and other functions.




Hellshire Beach Club



Devon House, an older mansion on the island that belonged to the first black millionaire in the country.




Devon House



National Gallery of Jamaica, which is one of the largest island art collections located at Devon House, Kingston, Jamaica



Lime Cay Beach which is a fantastic location for its beautiful landscapes and the white beaches



Port Royal's ruins, which you can tour in some cases
Nightclubs In Kingston
Kingston offers nightclub experiences like no other.  My favorite is Mingles Pub.  It high octane, upscale and offers theme nights, Karaoke Fun on Thursday and Friday is the start of fun for the weekend.
There are other fun clubs that we local and tourist go according to your mood of the evening or what you are looking for.
A couple I must mention are Escape 24/7 Bar & Grill that is laid back by day but is a great entertainment place at night.  Then there is the Weekenz Bristo and Bar, The Deck and Redbones Blues Cafe, just to name a few of the club you can enjoy when you stay in Kingston.
Norman Manley International Airport
If you're traveling to Kingston Jamaica, you'll likely come in through Norman Manley International Airport. From there, you can travel throughout the city by taxi or by car rental.
Visitors can explore the island's beaches and other attractions.
The Makeup Of The Capitol

The city of Kingston is an important region for the entire country. As the capitol of the country, it plays an important role in virtually every industry in the country, including its financial sector and industrial industry.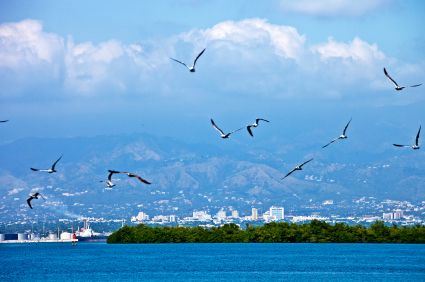 It is a cultural hotspot, too. Although some of the city is a business district, there are tons of entertainment establishment of all different kinds within Kingston.  We do know how to party.

In addition to the reggae music and the artistry that are part of the Jamaican tradition and culture, there are numerous Jamaican restaurants in Kingston.  Many of these restaurant dishes range from all over the world such as Italian, Indian and German cuisines.
Of course you can always find our local restaurants that serves our national dish of ackee and saltfish, curried goat and our famous jerk chicken.
Plan Your Trip To Kingston Jamaica

For those who are planning their trip to Kingston Jamaica, check out these Kingston Hotels. The good news is that there's plenty to do and see here. There are free street sound-system dancehall parties with clubs and bars opening early and staying open til the wee hours of the morning.
Since it's warm here throughout the year, visiting at any time is ideal.
Many who come here, come to enjoy the festivals and the beaches. Therefore, you should plan your trip around them and remember to book early.
Return to Home Page from "Kingston Jamaica"