Gracious and Outstanding Kingston Hotels

Kingston hotels are varied and loaded with a range of service facilities that caters to the needs of the numerous people visiting Kingston, Jamaica every year.  It is the largest city and the capitol of Jamaica, Kingston accommodates guests year round both on personal and business purposes.
Many hotels and resorts are available in Kingston providing a wide range of accommodation options.  These hotels can be categorized based on the amenities and the price range aspect into three different levels namely, budget, mid-range and high-profile.
A brief description of each of the types and hotels under each category are given below.
Kingston Hotels Rated Excellent
Special furnishing, thematic styles and luxurious amenities are what this category of hotels will provide.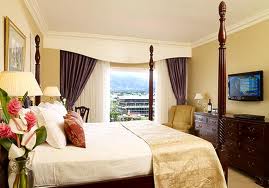 Courtleigh Hotel And Suites
Courtleigh Hotel And Suites
- Set in a traditional Caribbean style, this hotel is a favorite hub for travelers on business. With its charming features, a popular pub and reputed restaurant, this hotel is a dream place to stay.
Knutsford Court Hotel
- Located in the heart of New Kingston, this hotel provides easy access to shopping and financial places. With one hundred and seventy newly furnished rooms, this hotel has a garden setting and an understated elegance and is a popular destination for many.
Terra Nova Hotel - Situated in a very convenient location, this hotel is an "all suite" hotel with the most beautiful and sophisticated rooms and is obviously a high profile one. Has an elegant El Dorado dining room and a patio restaurant. Lovely place.
Jamaica Pegasus Hotel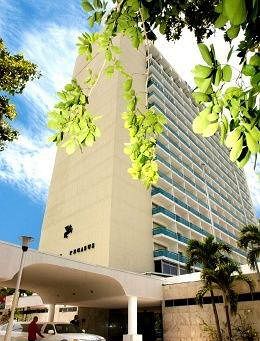 Jamaica Pegasus Hotel
This
Jamaica Pegasus Hotel
is noted for its more exclusive enclave of rooms and suites that caters to business guest, is located on Knutsford Blvd., close to business offices and financial centers. Though the prices start at around US$300 per day, it is one of the majors in Kingston Hotels.
Mid-Range Hotels
These hotels offer extended facilities as compared to budget hotels and are available in the price range of US$100 to US$120.
Altamont Court Hotel - Located in the Altamont Terrace, this hotel offers rooms in the range of US $100 that comes with standard amenities, suiting the purposes of vacation and business.
Christar Villas Hotel
- If you want to enjoy a Jamaican mojo, try this hotel on Hope Road, close to Bob Marley Museum, for a price of US$115 per day.
Budget Hotels
The Kingston hotels under this category offer rooms within the price range of US$80 per day and also provide basic amenities and necessities.  All the hotels listed here are centrally located making getting around very convenient.
The popular hotels under this section are:
The Liguanea Club - Situated on Knutsford Blvd., in Kingston, this club offers air conditioned rooms and free wireless internet in all their thirty-eight rooms. It includes many aspects of entertainment like cable television, fitness room and gym, tennis courts, squash rooms and swimming pool.

Chelsea Hotel - This is another budget hotel which offers guest rooms for as low as US$40 per day.
Hope Pastures Great House Bed and Breakfast
- Located on Charlemont Avenue in Kingston, this place offers basic amenities along with Wi-Fi and cable connectivity for just US$75 per day.
Jamaica Hotel That You Love.
Write About It Here!
Do you have some tips on, or story about your stay at a spectacular Jamaica Hotel? I am sure others would love to hear all about your Jamaica vacation in the lap of luxury? Share your story!
Return From Kingston Hotels To Kingston Jamaica