Jamaica Travel Information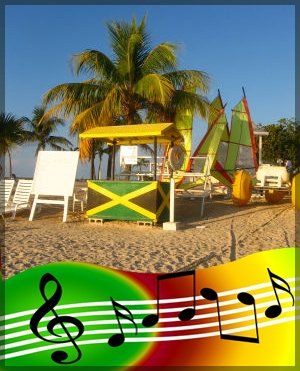 With Safety Tips To A Premier Caribbean Island
Jamaica travel information and tips gives you access to the premier Caribbean tourist destination.   So find out more about your travel information on what documents you'll need to take along before leaving home, along with general information about my beautiful island home.
Visitor Information

Since 9/11 the rules for visitors traveling to Jamaica has changed.  Most important is your safety, and you having a good time on your Jamaica vacation.
Jamaica is 90 miles south of Cuba and 100 miles west of Haiti. Kingston is the capitol and the country has an approximate population of over 3 million people.  You'll find the ethnicity is primarily African, with English as our language.  We are in the Eastern Standard Time zone and five hours behind GMT.
We have our own Jamaican currency and of course the US currency is accepted everywhere.
Air Travel to Jamaica

Flying is still the fastest and most practical way to travel. Check out these
Discount flights up to 40% off!
.
There are several international airlines flights arriving at either our Kingston Airport, the Norman Manley Airport, or our Montego Bay airport the Sir Donald Sangster airport where most of the visitors to Jamaica land.
Of course there is Tinson Pen that is located in Kingston that houses our domestic aircrafts that flies within the island taking passengers to Negril, Ocho Rios, and Port Antonio.
Clothing And Dress

Jamaica enjoy the very comfortable trade winds so humidity is very low, but be prepared for changes in the weather.

Lightweight summer clothing can be worn throughout the year. At times a light sweater or a light wrap might be necessary during the winter months in the evenings or for excursions into the hills.
If you are climbing or staying in the Blue Mountains you will need a warm jacket and sweater.

As part of your Jamaica Travel Information, though you are on vacation some hotel restaurant require men to wear jackets and ties for dinner, restricting shorts and sandals at dinner time.
Customs, Passport And Visa

At our Custom area you may be subjected to luggage inspection, if you satisfy the watchful officer's inspection, you might be lucky to be just waived through custom.  Since I am Jamaican, I know that the locals usually have lots of luggage so the custom lines can be very long.
There are special lines for you our very special visitor and only if you are carrying only one piece of luggage.   So look for these lines, for you are on vacation and do not want to spend an extra minute held up in any line.
For your travel to Jamaica I must inform you of things that are not allowed into the country, and they are coffee, drugs, explosives, firearms, flowers, meats, plants, uncanned fruits and vegetables.

Allowed in are two cartons of cigarettes, and some alcohol.
For more information on what is or not allowed into Jamaica you can visit the
country's website
or call Customs House at 876-922-5140.
Our Kingston airport is Norman Manley International Airport at 876-924-8452.
And, our Montego Bay airport is Sir Donald Sangster International Airport at 876-952-3124.
Passports Are A Necessity For Your Jamaica Travel

For your Jamaica Travel Information, upon your arrival, visitors must stop at the immigration checkpoint to submit proof of citizenship and their return tickets. Also the immigration cards that you completed on the plane is stamped. You must save that card because it is required upon your departure for home.
Since September 11th, all visitor to Jamaica must show their passport to enter the country.
If your home country is part of the Commonwealth you need only a
passport
and a return or an onward ticket for a stay not exceeding six months.
If you need to apply for a
Jamaica Visa online
please do so. Though a visa is not required to enter Jamaica if you are a Canadian or an US Citizens.
I would also suggest that before traveling always check your country's authorities for specifics because these requirements are always changing.
Domestic - Jamaica Travel Information On Air Travel

You will find our domestic air travel out of Tinson Pen, located in Kingston.
These comprehensive and low cost small planes network makes flying around the island easy, fuss free, low cost, safe and efficient and has ease of booking and checking in.
Driving In Jamaica

I know doing your own driving can be very important to you, but remember most visitor to the island will be driving on the opposite side of what you are accustom to.
In Jamaica you drive on the left and you are strongly advised to drive with extreme caution. Horns are frequently heard especially when approaching a bend, and driving around the many tight corners on narrow roads. Just take it easy and stick to the rules.
So if possible hire our approved and license taxis or tour buses.

Be informed about the necessary Jamaica Travel Information, then you can relax and truly enjoy your Jamaica vacation.
Emergency Numbers
You are here to enjoy your vacation but stuff happens from time to time and it is better to be prepared, so here goes.
There are Embassies and High Commissions, along with a number of United Nations agencies as well as multi-national organizations represented in Jamaica, so before leaving home know your country's Embassies' contact information.
Jamaica Travel Information provides you with a few:
The British High Commission is located at 28 Trafalgar Road, Kingston 10, telephone 876-510-0700, or 876-510-0720.
Canadian High Commission is located at 3 West king's House Road, Kingston 10, telephone 876-926-1500.
Cuban Embassy located at 9 Trafalgar Road, Kingston 5, telephone 876-978-0931, or 876-978-0933.

European Union - the Delegation of the European Commission located at 8 Oliver Road, Kingston 8, telephone 876-924-6333.
Jamaican Food

Jamaicans love seafood and our food doesn't consist only of local cuisine.
As part of your Jamaica Travel Information and Tips, while on vacation you will experience some of the best chefs in the Caribbean, from the United States and Europe, employed by the different establishments within the tourist industry. They all can prepare a sumptuous meal of elegant French, Continental and American dishes to your liking.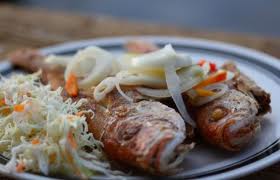 Red Snapper Fish
Because Jamaica is an island we have access to fresh seafood delivered daily by our Fishermen. Anyone can go to certain areas of our seaside and buy fresh fish, that is scaled and if you like also sliced, shrimps and lobster from the Fisherman boat.

Some really great tasting fish to eat are yellowtail, grouper and red snapper.  Our sweet tasting rock lobster is different from the Maine variety but just as tasty. It can be grilled, thermidor, cold or hot.
Wining and dining in Jamaica is a culinary experience not to be missed.
Local Cuisine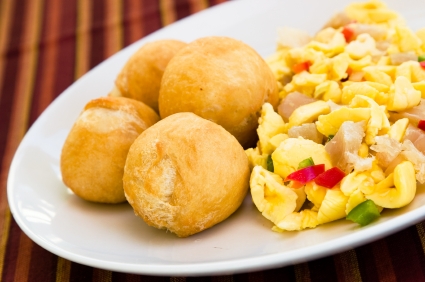 Fried Dumpling with Ackee And Salt Fish
You should taste our local cuisine that will introduce you to new flavors.  Apart from our famous jerk chicken, our national dish is salt fish and ackee.  Our meat dishes consists of curried goat and jerked pork.  Most of our meat dish is complimented with rice or rice and peas.
We also eat a lot of plant based food such as roast breadfruit, roast yams, roast fish, callaloo that is almost like spinach, sweet potatoes, boiled corn, green bananas and plantains.  And we love all types of soups.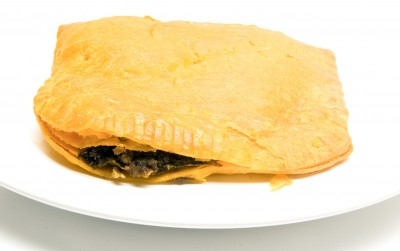 Beef Patty
One of our favorite snack is Patties.

The island is flushed with coconut trees so we enjoy coconut water, a refreshing drink that you can purchase from most roadside vendor.
Our local beer is Red Stripe produced by Wray and Nephews. Along with many liqueurs and our famous white rum.
Health Care Issues

We suggest you contact the World Health Organization (WHO) or your local healthcare agency for information on visiting Jamaica.
Internet

Internet access is everywhere with WiFi also available.
You will find Jamaica has a solid internet infrastructure and a comprehensive network of major centers throughout the country, and as they say you are only a mouse click away.
Language Of Jamaica

Jamaica travel information states that English is the official language but Jamaicans also speak a dialect or patois that is our unofficial language of Jamaica.
Our dialect or patois vocabulary is partly taken from our African ancestors and also the English language.
Public Holidays In Jamaica

January 1st
New Year's Day
Variable
Ash Wednesday
Variable
Good Friday
Variable
Easter Monday
May 23rd
Labour Day
August 1st
Emancipation Day
August 6th
Independence Day
3rd Monday in October
National Heroes' Day
December 25th
Christmas Day
December 26th
Boxing Day
Safety And Security

Vacation doesn't mean you do not take normal safety precautions.  Jamaicans are friendly people but like everywhere else in the world crime happens.  Great efforts are being made to keep crime at a minimum so enjoy yourself and follow the basis rules of precautions.
Always lock your jewelery and other valuables into your hotel's safe until they are needed.
A special note from Jamaica Travel Information is that upon existing your tour buses or rental vehicles, always remember to check for your camera, cellular phones and other personal items at the end of your journey.
Tours And Transport

We suggests that you be part of a guided tour that is usually available through your hotel, or you can contact JUTA (Jamaica Union of Travelers Association) at 876-924-8511.  And there are JUTA stand at most hotels.
I hope you make notes of these Jamaica travel information when enjoying your Jamaica vacation, and come back soon.

Return From Jamaica Travel Information To Travel To Jamaica