Jamaica Blue Mountain Peak
Panoramic View Of The Island Awaits

Jamaica Blue Mountain peaks are majestic continuous ranges seen from Kingston's northern suburbs to the north coast that is shrouded in mist. On these mountains you will find a high altitude botanical gardens, a national park and bird sanctuary, old plantations, great houses and magnificent hill walks.  
On these blue mountain peaks there are estates producing some of the most tasteful and expensive coffee on earth.  You will love the distinctive taste of Jamaican Blue Mountain coffee, your taste buds will enjoy its exceptionally fine flavor.
Blue Mountain Peak
Due to the constant moisture the flora throughout the blue mountains it is quite distinct.  You will notice that Pine trees are plentiful among the many trees growing here, with a wide selection of Jamaica's 550 types of fern including high tree ferns, Cyathea arborea.
Some growing to 30 ft (9 metres) tall and is supporting many climbing plants and orchids.  At the peak you can see almost all of Jamaica and on a clear day you can see as far north as Cuba rising up from the sea.
It is now a protected area and is called the Blue Mountain and John Crow National Park that was established to prevent further reduction of the woodland.
Getting To Jamaica Blue Mountain Peak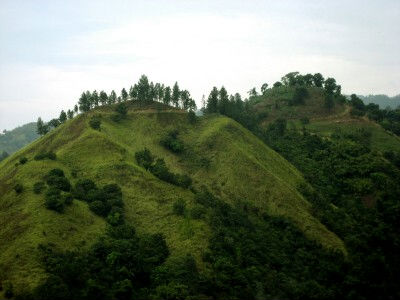 The roads are rugged so a sturdy vehicle should be used if you are driving yourself or you can be part of a guided tour group.
Cycling And Hiking

The adventurous visitor, nature lovers and avid cyclist can explore the Jamaica Blue Mountain area where they are organizations that offers a variety of tours.
There are two days hiking guided tour up to the Blue Mountain Peak at 7,042 ft (2,256 metres) the highest point of the mountain range, with a visit to Mavis Bank Coffee Factory and World's End distillery.  This is the most extensive and customized mountain bike tours through the scenic but very demanding central blue mountain range.
The overnight tour usually stay at Whitfield Hall or Wildflower Lodge where you enjoy a meal from freshly grown food.
Cyclist are offered either a half day blue mountains tour on the coast road. You will participate in the popular downhill tour from Hardware Gap, with scenic views that passes coffee, banana, spice and cocoa plantations, pine and rainforest as well as waterfalls, streams and pools.
The Jamaica Blue Mountain tour operators provides cyclist with food and riding gears.  The best time to go is during the dry winter season which is December through to April.
Stay Overnight At Blue Mountain Inn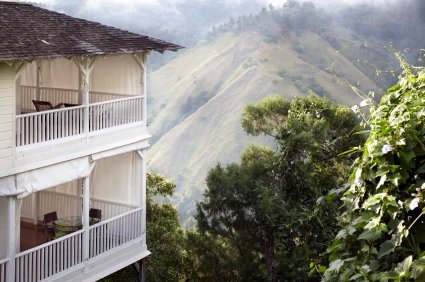 Take Route B1 to Papine where it becomes Gordon Town Road. This scenic road follows the Hope River Valley where you will pass the Blue Mountain Inn, that was formerly the great house of a coffee plantation.
Blue Mountain Botanical Gardens

Continue up the road to Cooperage to Gordon Town that was the site of Jamaica blue mountain first botanical garden, Spring Garden, established by Hinton East in 1770.
At the creation of Spring Garden, hundreds of foreign plant species from China and Sweden and other diverse places from around the world were introduced to the island.  

Some of the plants you will see are hibiscus, popular for their versatility and can stand alone as a dramatic focal point and carefree beauty. Azalea with their bold colors are an ideal bush for nearly any setting. Cassia a cinnamon tree from southern China.  A magnolia tree with heavenly scent buds. Oleander a beautiful evergreen shrub.  Croton a colorful plant with glossy foliage that has different variation of leaf types, and jasmine, these climbers with a beautiful scent.

These plants provide a profusion of color on the Jamaica blue mountain range and are very attractive plants all year round.
The Cinchona Botanical Gardens 5 was founded in 1868, as a center for the cultivation Assama tea and cinchona trees whose bark was in great demand as a source of quinine for the treatment of malaria.
It is amazing to find this well tended garden on top of the blue mountains, with immaculate lawns bordered by a profusion of flowers around the uninhabited Great House with paths and walks that lead through trees.
You will enjoy a spectacularly panorama walk through this garden.  Image walking through these trees that include imported types such as eucalyptus with their spear shaped leaves and peeling whitish barks, juniper, cork oak whose bark is in fact cork, Chinese cypress, lots of ferns and tree ferns, rubber trees whose leaves when picked emit a white latex and others growing in the blue mountains.
This botanical garden affords views of Jamaica Blue Mountain range in all directions, with John Crow Peak and St. John's Peak to the north, the main ridge of the Blue Mountains stretching east, and Kingston and the shimmering sea all the way to the south of the island.
Newcastle

Travel up to Guava Ridge through towns and valleys leading up to Newcastle army camp which is up the blue mountain at 4,000 ft. (1,220 meters).  I have hiked this area on many occasions, you will not be disappointed.
As a young girl, I attended Young People get-together held on Friday evenings at my church.  This is a social get-together for the young people of our church. There you were exposed to different things in craft, dance, music, hiking, camping and others.  It was a great way for us to be kept busy, to learn and be exposed to different parts of the island.

So our young people meeting group planned a trip to Jamaica Blue Mountain that included hiking in the Newcastle area.  We went early on a Saturday morning with the mist coming off the ground rising up into the blue mountains.
We visit the army camp that is located there and the surrounding area. From this vantage point you could see a good part of Jamaica laid out before our eyes.  It is a view that has stayed with me and is something I'll never forget. Back then Jamaica Blue Mountain was not as developed as it is today.
At Guava Ridge if you take the left fork in the road that takes you to Content Gap you will find the Charlottenburg House, a well preserved great house furnished with antique Jamaican furniture. Preserved slave quarters can still be found there dating back to when there was a coffee plantation.

My Family Farm

My Father grew up in Content Gap where my grandmother had her home and farm. We lived in Kingston and she came most Fridays bringing produce from her farm to her only child, Clarence, my Father.
The family farm was sold years ago and there are also other farms still in the area. These small Blue Mountains farms sells their produce in Kingston, supplying fresh fruits and vegetables.
World's End

The road continue up the mountain side to World's End where some of Jamaica's most famous liqueurs and rums are produced under the Sangster's "Old Jamaica" label. Tours include product sampling and purchasing.
Mavis Bank

Mavis Bank Central Factory buys some 1.4 million lbs, (700,000 kg) of green beans from approximately 6,000 coffee farmers each year. Most of this coffee is exported, while the rest are roasted and packed for sale.
This factory was established in the 1920s by Victor C. Munn. The original factory was destroyed by fire in 1955 but was later rebuilt.  Tours of the Mavis Bank factory takes visitors through every step of the coffee bean process and ends with a steaming cup for tasting.
Grand Homes

Strawberry Hill Hotel was once the family home of Chris Blackwell, who founded Island Records and where Bob Marley stayed for a time recovering from an assassination attempt in 1976.  In 1995 it became a hotel and has won architectural awards for its use of traditional Jamaican construction methods and 19th century Georgian vernacular and is a favorite place to enjoy Sunday brunch.
Bamboo Lodge a private home which was once a British Naval Hospital and also was a small hotel.
Then there is Bellencita home to our first Prime Minister after Jamaica was given independence, the late Sir Alexander Bustamante.
Return to Jamaican Blue Mountain Coffee from Jamaica Blue Mountain