Some Of Our Best
Jamaica Tourist Attractions

There are a number of delightful Jamaica tourist attractions for couples, families and singles to enjoy.  You'll see the island's nature's overwhelming beauty, incredible sunset, Jamaica's glorious culture and magnificent waterfalls.
Jamaica is the first and largest Caribbean island having an English speaking majority.  It is considered to be one of the best tourist spots because of it's irresistible natural beauty and popular attractions for weddings, honeymoons, family celebrations, reggae music festivals and for either a relaxing or adventurous vacation.
To help you make the most of the treasures of this paradise, below are some major Jamaica tourist attractions:
Cliff Diving
Cliff diving and sunset watching from the magnificent cliffs are a must when you visit one of Negril's well known Jamaica tourist attractions.
The thrill of diving from a cliff or watching other cliff divers jump from the top of trees branches straight down into fifteen feet of the crystal clear Caribbean sea is unbeatable.
To participate in these exciting attractions which can be found at the West End of Negril, where you'll see cliff diving at its best at Rick's Cafe.
Blue Mountain Peak
Hiking to the peak of the Blue Mountains and tasting the best coffee in the world is an exhilarating attraction in Jamaica.
You will be assisted by local tourist guides through the tropical rainforests, and coffee plantation.
Experience the most breathtaking views throughout your hike until you reach the top of the peak which shows the bird's eye view of Jamaica.
Dolphin Cove - Family Friendly Jamaica Tourist Attractions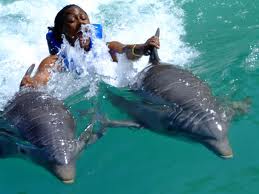 You will enjoy this most visited Jamaica tourist attractions in Ocho Rios.  Located among sea-fronting rocks and low cliffs, is an Eco-sensitive series of stone and wire marine pens that are home to the dolphins.
Dolphin Cove is a self contained little bay which allows for activities like snorkeling and swimming with access to nature trails through a jungle landscape that has been enhanced with magnificent birds, and iguanas.
Dunn's River Falls
The falls is one of the majestic beauties of Jamaica.  You can relax on the beach or climb the falls to the top with a guide. You'll find cool pools higher up between the cascading water for you to splash about in and enjoy.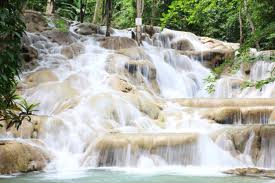 This sparkling waterfall is surrounded by lush greenery which makes climbing it a memorable experience.

Wear a protective beach shoe for your feet because some of the rocks have sharp edges and also to prevent you from slipping.
Dunn's River Falls is a few minutes away from a major tourist destination in Ocho Rios.
Green Grotto Caves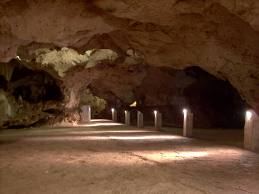 Located just off the coastal road from Discovery Bay and 4km west of Runaway Bay. Pirates and runaway slave once used these limestone caves to hide in.  The mammoth cave is full of rock formations, stalagmites and stalactites with seemingly endless chambers and an eerie Grotto Lake.
The subterranean lake is at the bottom of these coastal formed limestone caves with Arawak Indian's clay-ware giving this place a historical touch.
You will be talking about this Jamaica tourist attractions for years to come... it is unforgettable my family and I have visited this cave on many occasions and it is still exciting to go every time.
Heritage Homes In Jamaica Tourist Attractions

Jamaica has a very rich history and these Heritage Homes can still be found and are amazing Jamaica tourist attractions that present a touch of the glorious culture.
Greenwood Great House
Greenwood Great House built in 1790 by the relatives of the Barrett family of Wimpole Street fame, atop a hill overlooking the sea, east of Rose Hall, with magnificent views. 
The seventy-foot verandah gives you a panorama view of the sea unbroken by land and you really see the curvature of the earth.

Opens daily from 9 AM to 6 PM for tours and is declared a National Heritage site.  It is surrounded by luscious gardens, that has a magical feel with eucalyptus whistling in the breeze and the property filled with Norfolk Island pine, Japanese cedar, weeping cypress, rubber and camphor trees. The gorgeous flower beds are bursting with blooms.
The ancient house built with some classy stonework, still has its original contents frozen in time from the eighteenth-century ambiance. With the owner's library and an eclectic collection of ancient musical instruments, and custom-made Wedgwood china.
This is one of the many true Jamaica Tourist Attractions not to be missed.
The White Witch Rose Hall Great House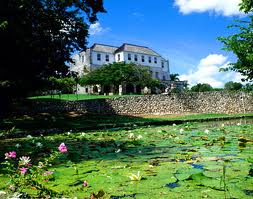 One of the most famous is the White Witch of Rose Hall Great House which is still in good condition and not to be missed. 
You'll find this well preserved home in Montego Bay, Jamaica.
This heritage home is associated with tales of witchery, Gothic horror and black magic.  Some interesting stuff.
Martha Brae River
Martha Brae River, a scenic emerald-green water-way, is a quiet thrill and is one of the most exciting water experiences of Jamaica where fresh and salt water merges.
It is one of our best natural Jamaica tourist attractions where you can go rafting. Poled by a skilled guide you sit on bamboo rafts that glides along the river for approximately ninety minutes.
You can stop at 'Tarzan's Corner' for a swing and a little swimming in a calm pool.
Montego Bay, Jamaica Capitol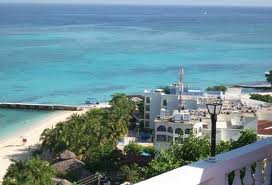 Capitol of St. James parish, Montego Bay is one of the largest cities in Jamaica and a great tourist hotspot.
You will find various attractions like duty free shops, white sand beaches and shopping arcades like Holiday Village, the largest shopping arcade.
Doctor's Cave Beach is one of the most recommended resorts in Jamaica and rich in history.
Negril's Seven Mile Beach
There is no more laid back place in the Caribbean for sunning by day and partying at night.  Negril is sensual and a fun-loving garden of Eden.
The beach is a gorgeous 11km long swath of white powdery sand with blue-turquoise serene waters lapping at the shores.  A beach that offers blend of irresistible and exciting reggae music, restaurants with flavorful food and top shelf liquor, nudity, and relaxing moments of lying on the beach.
Nearby are the undeniable Negril attractions of scuba diving in the grottoes and reefs off the coastline.
You'll enjoy walking among the great morass with towering palms through verdant wetlands filled with bird life or take to the hills for some meditation and to learn about Rastafarianism at this tranquil retreat, Abba Jahnehoy's Garden, and to view the most fiery sunsets.
This area is both romantic, adventurous, and possesses the most incredible sunsets you will ever see.
Ocho Rios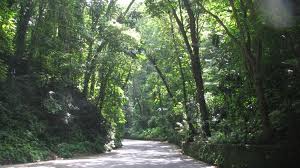 This is Fern Gully, a road leading into Ocho Rios that is called the garden city with many picturesque areas for you to enjoy.
To see nature's overwhelming beauty visit Flower Forest, Eden Falls and Safari tours.
Port Antonio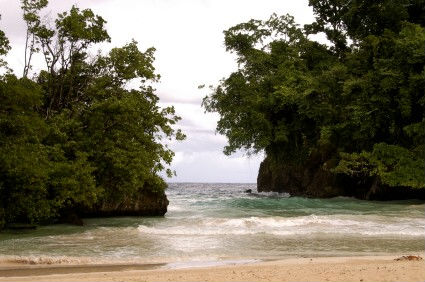 The Port Antonio area has the Blue Lagoon one of the most beautiful attractions of Jamaica, with the town surrounded by the most rugged and beautiful Blue Mountains, and is located at the north east coast of the island.
Once known as an elite retreat with some of the finest beaches in Jamaica and some of the Caribbean's best deep-sea fishing.  You'll see some expensive yachts sailing or docked here with the opening of the first-class Port Antonio Marina.
Very popular with many North American artists and royal families who have visited this area.
There are no all-inclusive mega-resorts to be found here, so the area is more laid back but very scenic.
When Christopher Columbus declares 'Jamaica is the fairest isle he'd ever seen'  he had already seen quite a few places.  Even today Jamaica still remains as one of the most scenic island in the Caribbean and on earth.
With its white sandy beaches that stretch for miles, the unmatched beauty of the crystal clear ocean;  Jamaica presents itself as a perfect hideaway for your relaxation or adventurous spirit coming from all over the world throughout the year.
What is Your Favorite Jamaica Attraction?
Share your questions, thoughts and experiences about Jamaica Attractions. Let us know if Jamaica met your expectations or exceeded them.

Did you find an exceptionally beautiful beach? A nice scuba diving spot? Hiking trail? Some special Jamaican attractions you enjoy? Perhaps you can share a great tip on how to make the most of a holiday?

Have a great photo? Or a spectacular sunset? Of course we'd love to see them, too!

It's easy! Just fill in the form below and I'll be happy to publish it.
Return From Jamaica Tourist Attractions To Attractions In Jamaica