Our Negril Jamaican Activities
by Angella
(San Diego, California)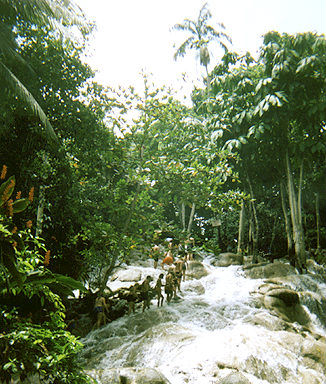 Hiking Mayfield Falls
We have been planning our Negril Jamaican activities and vacation for some time. So we were very excited to get started.

Our friends told us that Negril is a preferred Jamaican destination.

Located on the tip of the western coast of Jamaica; Negril became famous from the 1960s when hippies discovered its sunny shores, with its reputation for hedonism and nude sun-bathing.

Driving from the airport to Negril we saw spectacular cliffs, and sandy beaches stretching for miles. We could barely contain ourselves to get started on the many activities we had planned.



Hiking Mayfield Falls And Mineral Spring
Hiking through the falls and hillside of the Mayfield Falls and Mineral Spring was adventurous and exciting.
Our guides were helpful and guided us as we walked up and through the river and over the bamboo bridge.
There are areas along the way where you can stop and enjoy some mouth-watering and delicious Jamaican foods.
Scuba Diving
On another day we scuba dive in the crystal clear deep blue sea water. It is a much loved adventurous activity.
If you have young ones with you, you can opt for a fun filled family session of snorkeling.
The coral reefs are quite close to the shore, so you can swim out with your guide.
We had a great time viewing and acquainting ourselves with the abundant marine life found in the Caribbean waters.
Para-sailing
If you are done exploring the Jamaican hillside then para-sailing is an excellent option.
Flying above the deep blue waters, through the sunny blue sky, viewing so many things as you fly through the air, is so exhilarating.
For The Less Adventurous
If you are the laid-back type then kayaking or canoeing is another fun activity.
On our fourth day, we decided to do some canoeing. Taking the opportunity to view the immediate embankments along the shoreline.
On our last night we decided to just sit out on our porch and watch the exquisite sunset that the area is known for.
Shopping
Of course no one goes any where and not get in some shopping. So among our last activity was shopping.
We went to both the Time Square Mall and the Negril Craft market found along the Norman Manley Boulevard.
You will find some amazing and authentic Jamaican arts and crafts pieces.
So plan your vacation to Jamaica soon and explore the beautiful region of Negril Jamaica.
And this is just a summary of our Negril Jamaican activities.