All-Inclusive-Resorts-In-Jamaica
by Abby
(Dalzell, South Carolina)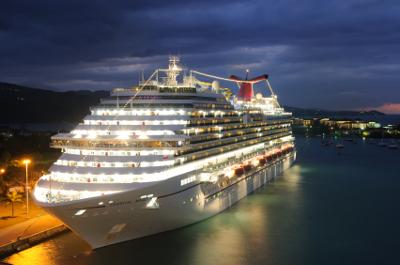 Cruise ship in Falmouth, Jamaica


I found the All-Inclusive Resorts In Jamaica exquisite and beautiful. But from my family and I arrived at Montego Bay airport I was truly in vacation mode.


With the hip reggae music and tropical vibe everywhere we looked, we were ready to start our vacation.


We discovered some very interesting activities outside of the gated all-inclusive Jamaica resorts in Jamaica (I think the concept was invented here). We found hilltop estates where hummingbirds land on your hands, uninhabited coves where you will see only your footprints on the sand and swim in warm turquoise waters.



Then we stopped along the roadside and sample some of the most exotic foods in the world such as roasted breadfruit - a national food, eat fruits like naseberry - you'll enjoy the taste, think of cinnamon-spiced apple and pear pie all rolled into one - then we wandered the grounds of an old sugar plantation, enjoyed a mento band which seems to show up to play everywhere, and many other surprises all waiting for us to discover and explore within this jewel of the Caribbean island.


Here is a brief overview of our trip to Jamaica.



Falmouth - A Cruise Port For The Largest Ships In The World
Surprise, surprise, there is a cruise port big enough for the world's largest ships to dock in Falmouth, found just east of Montego Bay.
Even if you are not a cruise fan or on a cruise, Falmouth is worth a visit for one of the best preserved quaint and colonial area.
Here if you stop to have some lunch you get to pick you fish which is still moving then grilled with some very spicy seasonings like onions, garlic and scotch bonnet peppers, or steamed with okra and pimento sauce.
Delicious!!!
Tours
Tours are offered here by the Falmouth Heritage Walks, for more information go to falmouthheritagewalks.com where you can visit the Anglician Parish Church and the Water Square once the site of a stone reservoir build in 1798.
Then there is the Good Hope Great House, a former 18th century sugar plantation, a 2,000 acre estate that once belonged to John Tharp, one of the largest land owners in the West Indies. You can find more information at goodhopejamaica.com.
Of course well-known Chukka Caribbean Tours, more information at chukkacaribbean.com, offers zipline tours and tubing which goes under some 18th century stone bridges on the Martha Brae River which runs through this plantation.
And the best tour for me is the Glistening Waters, a natural nightlife ride to a bio-luminescent lagoon. I am told it is the largest of four wonders of the world.
Montego Bay - The Hip Strip
Leave your Montego Bay all-inclusive resorts in Jamaica and head to Gloucester Avenue, know as the Hip Strip of Montego Bay where you'll find a collection of souvenir shops, themed bars, beautiful sunset and enjoy some bird watching.
You can purchase beautiful bamboo bags, straw hats, African inspired wood carvings at the the wooden shacks of the Old Fort Craft Market.
Sit and watch the sunset at an elevated view at the top of the hill on Union Street.
For some bird-watching you can head to the Rocklands Bird Feeding Sanctuary where the caretaker lures Doctor Birds, Hummingbirds and shows you how to hold a tiny bottle of sugar water that entices some of the fifteen species of birds in the sanctuary.
Looking forward to my next all-inclusive resorts in Jamaica vacation.