Vacation Rental Villas Jamaica

Vacation rental villas Jamaica are top choices for vacationers who are serious about having their privacy, comfort, golf and enjoy Jamaica Reggae Music.
On your Jamaica vacations you are in the midst of sparkling blue waters of the Caribbean sea, white sandy beaches, the beautiful Blue Mountains and the laid back atmosphere that Jamaica has to offer.

You may opt to stay away from the throngs of other tourist and escape to your own vacation rental villas Jamaica style. There is nothing like a dream come true in the sun soaked paradise of this jewel in the Caribbean.
Villas In the Montego Bay Area

Montego Bay is situated on the northwestern coast of the island, is a popular cruise port, is the second largest city of Jamaica and very popular with wealthy vacationers.

With the convenience of Montego Bay having its own international airport, upon your arrival, if your vacation rental villas Jamaica is in the area you are approximately half a hour away from your villa.
Ackee 8 - Tryall Club Villas In Montego Bay
Ackee - 8 Villa, rated as superior, is a three bedroom villa within Tryall Club villas in Montego Bay.
This Villa was completely renovated and redecorated in 2007 with magnificent cool pastels with English colonial touches and coral furnishings, pull-out sofa for additional guest with separate full bath for their use. And fully staffed 24-hours, full kitchen, access to all of Tryall amenities.

Every bedroom is air-conditioned, with your own private bath and shower combination, private patios or terraces and tile floors.


Accommodations are spacious, stylish and luxurious, with its own private pool, amidst lush foliage and are designed for privacy.

Tryall Club - An Exclusive Vacation Rental Villas Jamaica
Tryall Club is an exclusive gated community.
Its secluded villa guarantees your privacy that is located on a sloping hillside with spectacular views of the sparkling blue warm waters of the Caribbean Sea and mountain views.

The property have eighty-six Villas from one bedroom to eight bedrooms, some are beach-fronts and others are elegant hillside chalets.

Tryall Golf, Tennis & Beach Club is top choice if you are a lover of golf, it has a world class championship golf course located on 880 hectare or 2,174 acres of a former sugar plantation.  Amenities include complimentary golf cart and Tryall membership.


The 165 year old Georgian style great house lies along 2km or 1 1/4 mile beachfront where dining is available or at the Beach Cafe with nightly entertainments for your enjoyment.

With state of the art fitness center and scenic jogging trails, water-sports, Tour Desk, complimentary shuttles and Certified Nanny Service.

Tryall Club is recognized as the most eco-sensitive resorts winning the acclaim "Green Globe Hotel" award.
Belle Abri In Montego Bay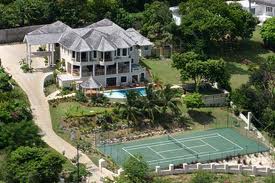 Belle Abri villa located in the prestigious Spring Farm area of Montego Bay with seven bedrooms and nine bathrooms, ceiling fans, king size beds, along with a split level living and dining that is designed to impress.

This vacation rental villas Jamaica master suite alone is comprised of 900 square feet with a walk in shower with massage jets and a rainfall shower head. Most of the bedroom overlook the ocean from their balconies, while some of the other bedrooms overlook the pool area.

The property comes with an amazing infinity pool with views of the ocean and Half Moon Golf Course, and an outside gazebo for an added romantic get-together.


Your security is a top priority here with fully electronic gates at the entrance of this mansion, security system and room to room intercom. Of special interest is the free phone calls to anywhere in North America.

This property is fully equipped for your comfort and enjoyment.
Villas In The Ocho Rios Area
Ocho Rios is a two hours drive from Montego Bay and was once a small banana and fishing port but is now a cruise ship port. One side of the bay is dominated by a bauxite-loading terminals and the other side are a range of hotels with sandy beaches and palm trees.

It is scenic and also the home of Dunns River falls.
Mammee Bay Estates Villas
Mammee Bay Estate is a gated estate close to Dunns River Falls and the town center of Ocho Rios.

Within this exclusive community you'll find privately owned Caribbean villas with its own private white sandy beach and a Clubhouse. With its own 24 hour security detail you are guaranteed privacy and safety.

There are one bedroom to seven bedrooms vacation rental villas Jamaica here, each with their own unique designs and style. You will be absolutely amazed at their luxuries that the various villas in Jamaica have to offer. Bedrooms are a delight, spacious, well thought out and exceedingly comfortable.


While staying at these residence you can purchase hotel passes to their facilities, like the gym, spa, scuba diving and also nightly entertainment.


Or you can purchase the all inclusive option that includes transportation to and from the airport, admission to a huge selection of activities, a van and a driver that includes staff gratuities.

A staff of six is at your service to provide you with meal preparations and laundry services.

These vacation rental villas Jamaica property are equipped for all your comforts.
Vacation rental villas Jamaica offers you a home away from home and much more. But first you need to determine the area in which you and your family or friends want to stay and then, with villas this luxurious, there is hardly any need to leave the premises.

Just kick back and enjoy the beaches and be prepared to be pampered to your heart's desire.
Return From Vacation Rental Villas Jamaica To Jamaica Vacations