Port Antonio Villas

These Port Antonio Villas are found along the rugged stretch of coast east of Port Antonio are luxurious, with many amenities, fully staffed and is in one of the most beautiful parts of Jamaica.  Discover the best of Jamaica with spectacular views of the Blue Mountains, lush vegetation and the constantly changing color of blue, green, turquoise of the warm Caribbean sea.
The parish of Port Antonio is situated within lush tropical rainforest in the parish of Portland at the water's edge of warm sapphire blue waters with the famous Blue Mountains as a backdrop.  
Here are some of the best villas to be found in Port Antonio Jamaica all with fantastic beaches, and swimming inlets.
Point Of View Villa
Point of View sits right on the shores of the warm Blue Lagoon with a panoramic view of Pellew Island.
The villa is known for its elegant dining, magnificent view, superior guest services and is loved by photographers.  Its location has been features in many magazines.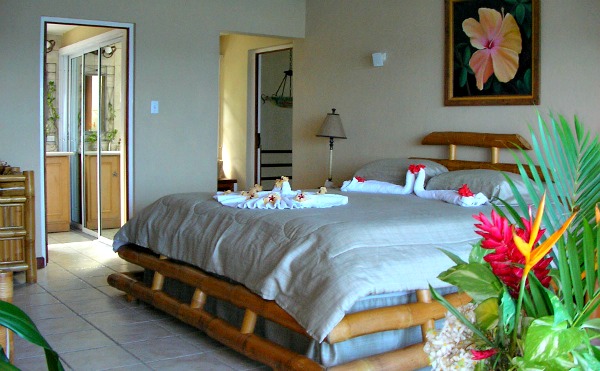 There are four bedrooms, this is the master bedroom, decorated in a classical luxurious style with large windows from where you can see the jungle-smothered hills of Jamaica rolling down to the coastline.
The tropical furnishing and open design makes it perfect for a group of eight.  
Staff at this villa is ready at anytime to fulfill your wishes by preparing different menus or organizing activities like horse-back riding, guided tours, hiking, golf, kayaking and other activities.
Norse Point Villa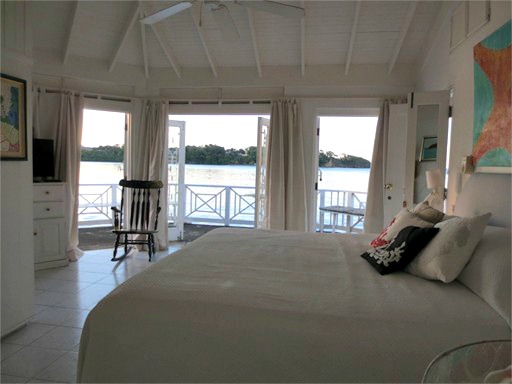 Away from the crowded north coast, in a romantic landscape there is Norse Point Villa.  It has secluded one bedroom suite perfect for a couple's hideaway or honeymooners.  The living room couches doubles as two single beds that can be used by another couple or two individuals.
Each one bedroom, one and half bathroom suite has its own entrance giving you complete privacy.
It is situated on the water's edge of the aquamarine color ocean of the San San Bay that is protected by a beautiful coral reef.  The area has an untouched beauty.  You can walk to the most famous Jerk Center on the island from your villa.
Avalon Villas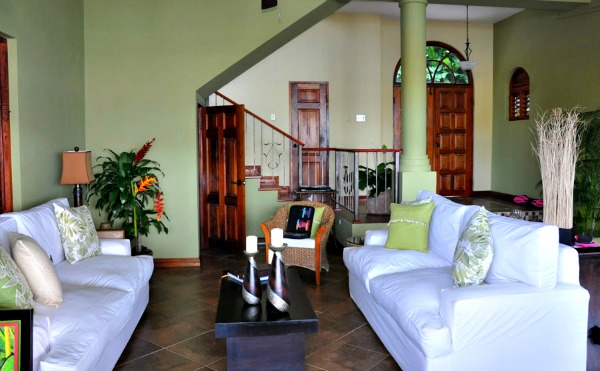 With a modern cozy look, Avalon is another great option if you seek paradise in Jamaica.   It offers all the comforts of a five stars hotel and more.
The villa offers four bedroom with four private bathrooms.  Flat TV, internet, air conditioning, personal staff for you and your friends.  It is one of the best accommodations in the area for eight individuals or less.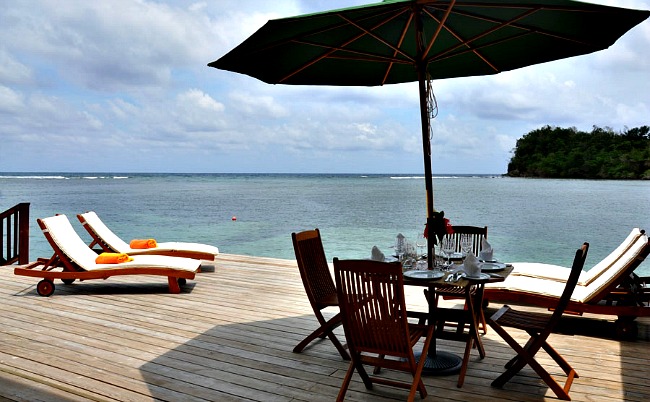 At Avalon villa you'll have your own private deck from where you can paddle your kayaks out through the inlets and explore the surrounding areas.
Just across from the dock you can see the Blue Lagoon and the beautiful soft sanded San San Beach.
The Fan Villa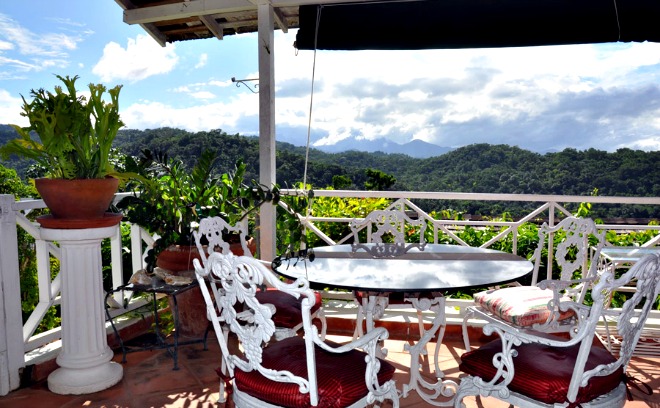 The Fan is among the visitors to Jamaica most favorite Port Antonio villas thanks to its location.  Not far from the city is this wonderful home which offers accommodation to whoever seeks tranquility in the middle of nature.
The lush forest covers the hills of Williamsfields.  From this vantage point you admire points of interest such as the Turtle Crawl, the Blue Mountains and Trident Castle. 
You'll also see exotic flowers and our national birds, the hummingbirds, zipping through the air.  Nature abound everywhere you look, whether you are looking from your balcony or your bedroom.
The Fan, with outdoor terraces that invites you to unwind and relax, has two private apartments each one with its own bedroom, living room, kitchen and bathroom.
It also has a private staff ready to serve you homemade food and fresh fruits.
Of interest, is the installation of a innovative device for their water treatment that replicates the natural process through which nature transfers a full spectrum of vibrational information that has beneficial effects. Learn more about this system here.
Dragon Point Villa
Dragon Points is designed for parties and having fun with your family and friends.  It is perfect for private events and has its own swimming pool.  Built on 9.5 acres of lush green tropical garden with views of the beach and seaside cliffs; and located just ten minutes from the town of Port Antonio.
With two main bedrooms and a smaller bedroom for one or more guests.  The kitchen and living room area is surrounded by French doors that gives it an elegant style.
You will enjoy the sea breeze and peaceful gardens where you can organize your party or wedding.
Summary On Port Antonio Villas
As you can see these Port Antonio villas are all close to the magnificent beaches of Frenchman's Cove, San San, Turtle Cove and Winnifred, and the swimming inlets of the Blue Lagoon.
The area is relaxing and a very good place to get away from it all.
Return From Port Antonio Villas To Port Antonio Jamaica