Jamaica All Inclusive Resorts

In Jamaica all inclusive resorts can be found all over the island.  All-inclusive means you can be active as you feel like or be as relaxed as you want to be.  I love this type of vacation it takes away the problem of what the kids are going to eat, what the other members of your family or party like or don't like to eat or at what time they may want to eat.  
If you feel like sleeping in late and you miss breakfast time, it is not a problem.  If your kid start to eat something and they don't like it, thats okay.  You can ask for something else.  Anytime is your time.
You'll find a variety of food and drinks that will meet everyone taste.  There are lots of choices for everyone.  This type of vacation is relaxing and problem free.  All-inclusive means a single price covers your room, meals, drinks, entertainment and non-motorized water sports.  This is a carefree vacation.
All-inclusive holidays can offer marvelous locations at great prices.  Think about how much you will spend on accommodation, food, and activities if you go on your own.  Why not have all these covered with less money and no worries?
Jamaica resorts have all the facilities thats needed to satisfy even the most demanding visitors.  For a family with small children, or teenagers, vacationing in Jamaica all inclusive resorts is your best choice.  In general all-inclusive vacations are for everyone.
Many say a trip to this dream island is very expensive, but with the right plan nothing is impossible.
These Jamaica all inclusive resorts are indeed classy, and the prospect of leaving your wallet in your room safe, while eating and drinking all you can does carry a certain appeal.
However, do not allow the all-inclusive feature of your vacation to preclude you from discovering the colorful, and the off-the-beaten-track of Jamaica.
Riu Tropical Bay -  Jamaica All Inclusive Resorts
Of all the Riu's in Jamaica, and I have stayed in Riu in Negril and Riu in Ocho Rios, Riu Tropical Bay in Negril is my favorite.  The rooms are spacious with beautiful decor.  Here I am sitting at the fountain  with a walkway that leads to the beautiful beach.  My daughter also had her destination wedding at this location.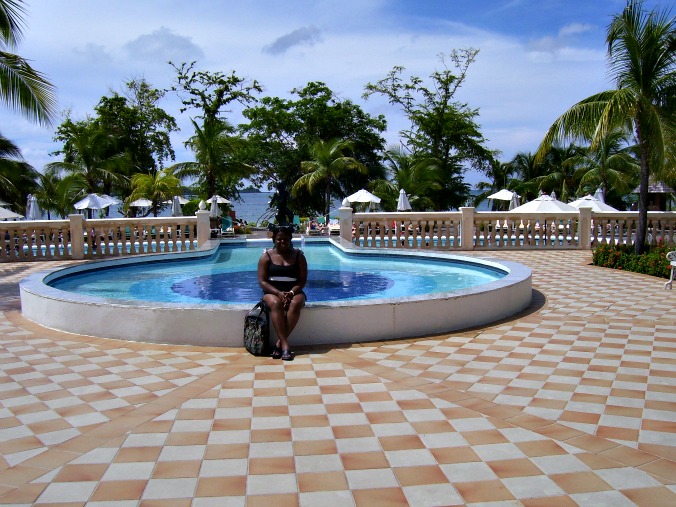 The food at this Riu, to me is the best.  You will enjoy your stay here at this sprawling low-rise buildings property with white powdery sandy beach.

Riu Tropical Bay is one of the many all inclusive resorts that caters to family, couples and groups.   Also they offer good value if you are on a budget.   It is one of the few resorts that have a full complementary bar within your room.
There is a full array of water-sports, fitness center and spa, tennis courts, volleyball courts, disco and a nice selection of restaurants and Broadway type entertainment.
Jewel Dunn's River Beach Resort And Spa
Jewel Dunn's River Beach Resort & Spa is located close to the our famous Dunn's River Falls.  Here the adults only policy includes same-sex partners and also friends.  If you are looking for relaxation in the middle of nature you'll find it here.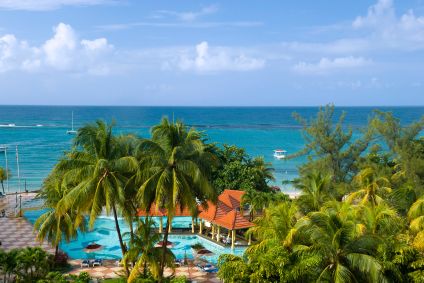 Massages, Turkish baths, body treatments, sauna, are all available to pamper your body with high class treatments.

What would you like to see every morning upon awakening?  Choose one of the many air-conditioned rooms which offer the perfect view.
Whatever your choice, you can choose a cozy room that allows you to admire the turquoise sea, or the tropical gardens - a place where exotic birds are at home.  Or choose a room with a mountain view.  Its all up to you.
Take advantage of all the marvelous things this resort has to offer and book your vacation right now through Hotels Combined link below.  They offer great bargain prices.
Jamaica all inclusive resorts caters to your needs.  This exotic destination is a true tropical beauty.  It has colorful flowers and unique plants, with countless waterfalls.
We are famous for our reggae music, our fine sandy beaches surrounded by warm turquoise waters.
It is the perfect place to relax and dream.  This island can be described in a few words as a location for partying, great foods, magnificent landscapes and friendly people.
Return From Jamaica All Inclusive Resorts To Jamaica Resorts