Your Guide To Cheap Flights To Montego Bay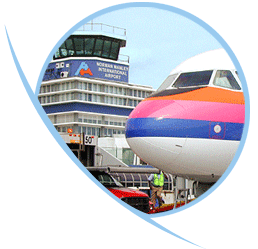 Many airlines carriers offer cheap flights to Montego Bay, Jamaica from various parts of the world. So finding the best priced ticket is the first step in planning your itinerary, paving the way for the rest of your vacation plans.
It is simple and easy to find a cheap fare provided you are ready to invest time and efforts on it. Interested in finding cheap flight tickets, then read on to understand the essentials involved in purchasing them.
Montego Bay
MoBay is the second largest city in Jamaica and is the capitol of St. James Parish, one of the fourteen parishes in Jamaica. It is the third largest city by population in Jamaica, fondly known as 'MoBay' and also popularly known as the 'tourist capitol of Jamaica'.
Montego Bay plays host yearly, during the months of July and August, to our International Dancehall Queen Contest and Reggae Sumfest. These are must see events that will capture your imagination and rev up your musical dancing feet.

It is also famous for its cruise line terminal, duty free shopping, caves and beaches with clear turquoise waters.
Air Route To Montego Bay
Montego Bay, Jamaica is home to one of our two main international airport terminals.
The Sangster International airport is one of the busiest, largest and modern airports in the Caribbean region. Named after one of our Jamaican Prime Minister, Sir Donald Sangster, this airport is a gateway to the Caribbean and is a hub for many airlines in this region.
Caribbean Airlines and many other international carriers connect to Jamaica from many important cities of the world.
Tips To Finding Cheap Flights To Montego Bay
So here are some tips on finding cheap airfares to Montego Bay below:
Tip #1: Buy it immediately. Cheap flight tickets do not stay long, and buying quickly will save you a lot of disappointment and frustration later.

Tip #2: Flexibility of your travel date. Flight prices normally change based on the time and day of the week. An early morning or a late night flight can buy you a few hundred dollars savings.

Tip #3: Check for ticket availability in the budget carriers rather than the 'majors'. These low cost carriers offer you little or no perks but can guarantee huge savings.

Tip #4: Do not wait for the least price as you might miss out the best price in the process. Fix a price that you are willing to pay for that destination and buy your ticket as soon as the price reaches your fixed price.

Tip #5: Try to do a survey for the prices in more than two to three search engines. Not all search engines are cheap as many of them are affiliated to certain airline companies. Under such circumstances, searching many sites can help you figure out the cheapest fare available to Montego Bay.

Tip #6: If you are a student, you can take benefit of many discounts that are provided when buying your cheap flights to Montego Bay tickets.

Tip #7: Sometimes foreign websites of major carriers offer comparatively cheaper flight prices as they are normally priced in foreign denominations. Thus spend some time on finding out the fares to Montego Bay from international websites for those carriers.

Return From Cheap Flights To Montego Bay From Montego Bay Jamaica