Hello


2012 Jamaica Vacation Packages
Just like every year, except 2012 Jamaica vacation packages has a lot more to offer, vacationing in Jamaica is always a memorable time. But this year, we are celebrating our 50th year of Independence, so Jamaica is offering even more exciting vacation deals for couples, families, and singles. In this article of the month we are summing up all kinds of vacation deals and useful ways to get the most of out of your vacation plans.


If you like this e-zine, please do a friend and me a big favor by paying it forward. If a friend forward this to you and you like what you read then please subscribe by visiting Jamaica Reggae Music Vacation Lovers.


By the way, click here to visit my Jamaica Reggae Music Vacation Facebook page. If you have not "Liked" it as yet, please do so now. I occasionally send related messages there.


---
---
We recommend you start your research here, doing an Internet search through the many links placed within this newsletter for the best 2012 Jamaica vacation packages. You will find some packages that are suitable for couples only, some for families only and others for both.
Do also search for flight deals on sites like Expedia, link is provided for you below for easy reference, and then compare such deals.


---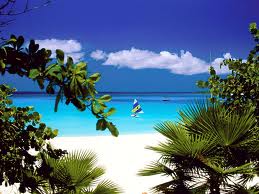 Once you have researched the various packages you like it's time to shortlist. Budget is of course one major concern when choosing a vacation package. Apart from that, look for value added services thats being provided with that deal.


Also, it is important to search for Jamaica attractions near to your hotel or resort as you may not want to travel for hours to reach your favorite attractions.


---
There are resorts that are geared towards adult only packages.


The Perfect Romantic Getaway begins at Sandals Resorts Learn More
about packages that are perfect for honeymooners or couples who just want to have quality romantic time on their trip. Private beaches, water sports, entertainment services, nightlife, dining and spas are just some of the services to look for.


Based on your personal preference and budget you can always choose a resort that you both will love. 2012 Jamaica vacation packages are offering great value. Use the Expedia link below to check out Breezes Grand Resort and Spa Negril, Couples Swept Away Negril, Couples Tower Isle Resort Ocho Rios where you can enjoy your own private nude island, Holiday Inn SunSpree Resort Montego Nay and Sandals Royal Caribbean Resorts are some of the great adult only places to stay this year.


---
Your kids will love Jamaica just as much as how you also love Jamaica. Jamaican hotels and resorts are there to offer excellent family deals for you and your kids. To make this family vacation momentous, we recommend doing some research beforehand.


When travelling with kids you need to take care of some extra things like safety and health. Water sports, marine life adventures, waterparks, great food are some of the major amenities to look for in a place offering a family vacation package.


Beaches Negril Resort and Spa, Half Moon, Hilton Rose Hall and Spa, Beaches Sandy Bay Negril and Beaches Boscobel Resort and Golf Club are some recommended places to stay with kids.


---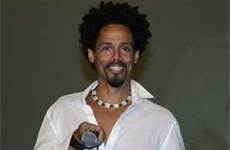 Peter Williams is our chosen celebrity of this month. Peter is a Jamaican born actor who currently lives in Canada, and became popular mostly from his acting work on television. He appeared in the first four seasons of a science fiction and adventure television series "Stargate SG-1". Fallen" in 2006, "Life As We Know It" in 2004, "Legend of Earthsea" in 2004, "Eve's Christmas" also in 2004, "Dark Angel" in 2002 and "The X-Files" in 1998, are some of his popular works.


Williams also worked for big screen in the movies "Catwoman" and "The Chronicles of the Riddick". He is the brother of Stephen Williams, who has been directing some of the highly popular TV shows like "Crossing Jordan", "Ed", and "PSI Factor: Chronicles of the Paranormal".


Recently he played the lead role in Canadian drama feature film "A Winter Tale". Some news resources also state that Peter is getting into directing so we are looking forward to his new work.

---
Jerk Pork Ribs
Jamaican created delicious and spicy jerk seasoning which we use on chicken and also on pork. For this month I am showing you how to make jerk pork ribs with some added home seasonings.

So let's get started on this delicious cuisine.

Enjoy!!!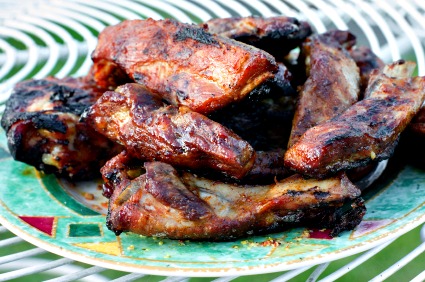 Ingredients
3 Racks of pork ribs


2 tablespoons of brown sugar
2 tablespoon sweet paprika


1 chopped onion
2 teaspoon ground fennel


3 sprigs thyme
3 cloves garlic


2 teaspoon Cumin
1 teaspoon dry mustard


2 tablespoon jerk seasoning, I like walkerswood brand
1/4 cup sherry vinegar
2 tablespoon salt


2 teaspoon ground coriander
1/2 teaspoon whole black peppercorns
Preparation

In a medium pot combine 3 cups of water, salt, vinegar, sugar, peppercorns, jerk seasoning, thyme and garlic and bring to a boil stirring occasionally.
Remove from heat, then when mixture has cooled add racks of pork ribs and cover. Chill for at least three hours. I usually prepare this overnight and let pork marinate in mixture overnight.
Preheat your grill to medium to high heat. Remove pork from marinade and pat dry. In another bowl combine mustard, coriander, cumin, fennel, pepper and paprika and rub over meat coating the pork.
Grill pork until browned on all sides, for approximately twenty minutes on each side. Remove from grill and let stand for ten minutes then cut into slices and serve.
Serve with roast corn, salad, rice or bread.

Really juicy and delicious.

---
Again thank you for subscribing to this month's newsletter, and remember to visit our website for more useful information on the beautiful island of Jamaica, its cultural highlights, latest vacation packages and tour guides available.

And, thanks to the Power of SBI in helping me create my website.

Also, I am inviting you to write your own stories or commentaries here, and thank you.

Your feedback and articles are always welcomed, so please Contact Us here.


Warmest regards,

Donna
Author & Publisher: Jamaica Reggae Music Vacation Website
Facebook: Like Us On Facebook
Twitter: Follow Us On Twitter


---