Destination Wedding -
Jamaica Reggae Music
Vacation Lovers
Issue #014 - March 3rd, 2012
A destination wedding offers the chance to create the wedding of your dreams, doesn't have to cost a fortune or be a nightmare to organize. All you need is your imagination, a wedding planner and an adventurous spirit.

If you like this e-zine, please do a friend and me a big favor by paying it forward. If a friend forward this to you and you like what you read then please subscribe by visiting Jamaica Reggae Music Vacation Lovers.


By the way, click here to visit my Jamaica Reggae Music Vacation Facebook page. If you have not "Liked" it as yet, please do so now. I occasionally send related messages there.


---
---
A wedding in Jamaica is a great choice. Why? Because all year we have great weather, there are tons of wedding and honeymoon package deals and is fun for everyone.

You can save a lot of money by having your wedding and your honeymoon at the same place.

If you have any form of complicated family situation then a destination wedding is all the more reason to have your "I Do" said in a neutral location.

Also Jamaica Resorts offer on-site wedding planners that makes planning your wedding so much easier.

---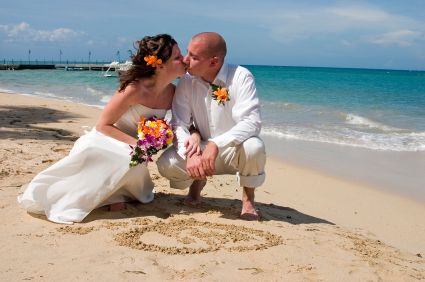 But, before you start planning your wedding details you need to ask yourself some questions:
Would you like your wedding to be an event that people will remember forever, or be an adventure?


Would you like your wedding to be a small intimate affair with just a select group of people you are closest to.


Do you want your wedding to be a group vacation where everyone can really get to know each other and you can spend quality time with everyone. Especially if your family and the groom's family doesn't really know each other and also live a million miles apart.


Guest list is made up of people who will come no matter where you have your wedding.


If things go wrong and you think this will make a great story someday.


For my honeymoon I can hang out with my friends and family and still be able to sneak off at the end of the day and just be a couple.
If you say yes to most of those questions start packing you are the perfect couple for a destination wedding.

Next do a worksheet listing expenses from airfare, accommodations, invitations, photographer, flowers, bridal gown, gifts, decor.

The resorts in Jamaica offers on-site wedding planner which makes your life so much easier.

So review my Jamaica website and see all that this jewel of the Caribbean has to offer and compare.
Packing
Designers are now making light beautiful packing wedding gowns and dresses a breeze for traveling.
---
Now that you have decided on the destination send a travel guide to your guest so that they may look for ways to fill their time before and after the wedding.

Your guests that will probably be traveling from around the globe, need to feel that you have chosen a place that will delight them, make them feel as though their time and money have been well spent.

---
Jamaica Blues And Jazz - Celine Dion
If you did not get a chance to attend the 2012 Jamaica Blues and Jazz festival here are highlights of some of the performances, specifically that of Celion and Jamaica's own Diana King performing "Treat Her Like A Lady".

Even Andrea Bocelli sang a duet with her.
Already there are singers from around the world contacting the organizers wanting to participate in 2013 festival.
Hope to see you there next year.

---
Prince Harry To Visit Jamaica
Prince Harry plans to visit Jamaica in March to meet our newly elected Prime Minister, Portia Simpson Miller and also meet with the world's fastest man Usain Bolt for some pointer in running, as part of the Queen of England sixty years reign.

What an honor for Jamaica and Usain.

---
<>, as a subscriber to our free monthly newsletter I would like to offer topics that are of interest to you. So I am asking for your input on what the newsletter should cover and also questions you would like answered about Jamaica.

To thank you for your participation and if your topic is chosen for that month's newsletter I'll send you a free e-book.

Please send me your thoughts, ideas, questions and topic of interest here.

---
<>, we are making zesty Mango Salsa which is a great accompaniment to grilled fish. You can also change the flavor the next time you make salsa and instead of mango use peaches, nectarines or papaya.

What You'll Need
1 mango, pitted, peeled and chopped
1 avocado, peeled, pitted and chopped
1 tomato, chopped
1/4 cup peeled and diced jicama
1 jalapeno, seeded and minced
1 small red onion, minced
1/4 cup chopped fresh cilantro
Juice one lime
1 - 2 tablespoons extra virgin olive oil
Pinch Sea salt
Combined mango, avocado, tomato, jicama, jalapeno, onion and cilantro in a large bowl.
Fold in lime juice and olive oil. Add sea salt.
Let chill to allow flavors to blend then serve.
Enjoy!!

---
Destination weddings are all about everyone getting away and having some fun. Guest to these weddings seems to love this idea a lot, and if you thing your guest won't come... watch and see what happens.
Even those you did not invite sometimes turn up because of the location and they get a chance to be with everyone at a fun spot and still get to see the wedding because most times it is out in the open, somewhere on the beach, or in a Gazebo.
So start making your phone calls, compare rates and book your destination wedding to Jamaica today.

Again thank you for subscribing to this month's newsletter, and remember to visit our website for more useful information on the beautiful island of Jamaica.

And, thanks to the Power of SBI in helping me create my website.

Also, I am inviting you to write your own stories or commentaries here, and thank you.

Your feedback and articles are always welcomed, so please Contact Us here.


Warmest regards,

Donna
Author & Publisher: Jamaica Reggae Music Vacation Website
Facebook: Like Us On Facebook
Twitter: Follow Us On Twitter


---
New!

CommentsHave your say about what you just read! Leave me a comment in the box below.